IP Camera System with 4 Ultra HD 4K Security Cameras & Lorex Secure Connectivity
4KHDIP44W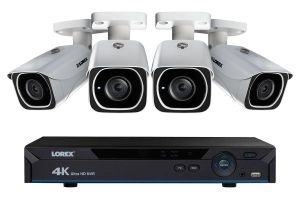 Keep watch over the things that matter most with this professional-grade security camera system from Lorex by FLIR, featuring four 8MP Ultra HD cameras. Everything you need for setup is included, giving you professional-grade security without needing professional installation.

Accessing your security system on the go has never been easier with Lorex Secure™ connectivity, remote viewing in just 3 simple steps – watch your cameras from anywhere on a PC or Mac, or with the free apps for your smartphone or tablet (iPhone® / iPad® / Android™). Stunning high definition video ensures you never miss out on important details. Video surveillance has never looked this good, at such an affordable price!.
---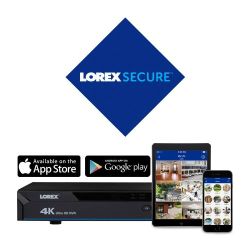 Stay connected with Lorex Secure
Connect your smartphone or tablet to our Lorex Secure app to make your entire surveillance system accessible from virtually anywhere in the world. It is full of innovative features that will make monitoring your property easier. Among many other features, Lorex Secure allow you to turn off and on a camera, and send you motion activated push notifications to your smart device.
---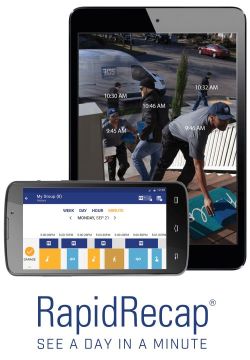 RapidRecap® – see the day in a minute
RapidRecap® compiles hours' worth of activity into a short video summary. It connects you to all the day's events in a flash. See your kids coming home, your garbage being collected, your pets getting up to their usual mischief – all in an instant! Timestamping of moving objects tells you what happened and when. Experience the rapid way to stay connected and start to see more while watching less.
---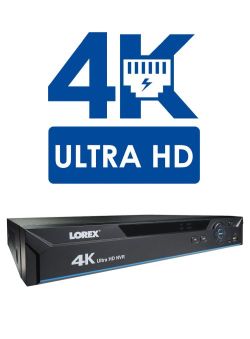 Powerful HD recording & 4K capability
Experience the next generation of high definition video recording. The included recorder supports recording from 720p all the way up to 4K HD resolution. Record smooth HD video in on every channel, no matter what resolution. Industry-leading 4K resolution (3840×2160)* ensures the highest level of detail in your recordings. Advanced H.264 & H.265 compression technologies maximize recording efficiency, helping you to get the most out of your available hard drive space.

* 8MP IP cameras are required to take advantage of 4K recording
---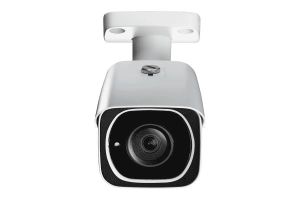 4K resolution video clarity
The 8MP security camera at the core of this security camera is capable of transmitting a 4K pixel resolution of 3840 × 2160 at 15 frames-per-second (FPS). This resolution will deliver extremely detailed images and allow for greater digital zooms so you can see further into the distance. This camera also uses industry leading H.265 compression, which offers significant bandwidth and video storage capacity over older compression technologies.
---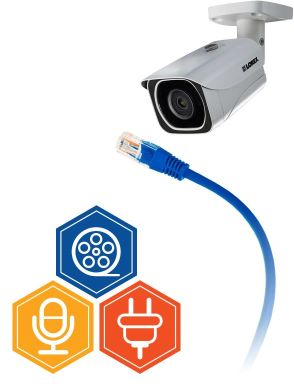 Easy, single-cable installation per camera
Installation is quick and easy with only a single cable required for each camera. Power-over-Ethernet (PoE) ports are built right into the NVR, which connect to the provided Ethernet cables. Each Ethernet cable:
Carries HD video to the NVR
Powers the security camera with no additional power adapters required
Provides control over PTZ cameras (sold separately)
---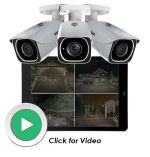 Does this 4K security camera have night vision?
Powerful infrared (IR) LEDs will protect your property, even during the darkest hours of the night. Clearly see up to 130ft / 40m away with the help of ambient lighting or up to 90ft / 27m away in total darkness with the LNB8005 4K security camera. It uses an integrated infrared cut filter that switches on and off between day and night to ensure accurate color reproduction during the day and crisp black and white video throughout the night.
---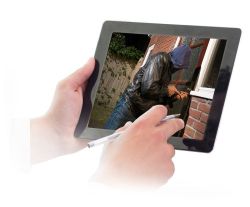 Motion detection & other smart monitoring
Even the most vigilant homeowners just don't have time to review hours of security footage. Our security systems come loaded with advanced features to help you monitor smarter. Motion detection comes as a standard feature, allowing you to save hard drive space by only recording scenes of movement. You can also choose to receive email alerts of motion events with snapshot attachments, or push notifications sent to your smartphone or tablet.
---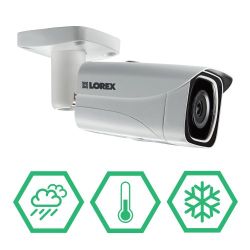 All-weather security camera
Your 4K security camera is rated IP66. This ensures safe outdoor installations. Furious winds, torrential downpours, and furious snowstorms are no match for this rugged security camera. It will even continue to operate in freezing climates as low as -22°F / -30°C. So go ahead and place this security camera where you need it most. Its heavy duty metal housing is well equipped to withstand both the elements and vandalism.
---

Security-grade hard drive pre-installed
Record crisp HD video to the pre-installed security grade hard drive. The 100% duty-cycle hard drive is designed for surveillance, providing reliable storage for weeks or even months of security footage. Customize the recording settings to fit your needs. Record up to 4K HD (3840 × 2160)* for the highest video quality, or set to a lower resolution for improved recording efficiency. You can also conserve storage space by only recording scenes with movement or only recording between scheduled times.

* 8MP IP cameras are required to take advantage of 4K recording.
---
LNR6100
4K-Capable HD Network Video Recorder Features:


Supports real-time recording up to 8MP on all channels - 4 the detail of 1080p @ up to 25/30fps
Supports industry-leading 4K recording
8 built-in PoE (Power over Ethernet) ports providing video and power over a single Ethernet cable
Lorex Secure™ apps for live viewing, playback, video recording & snapshots (iPhone® / iPad® / Android™)
PC and Mac compatible – Lorex Cloud™ video management software gives you complete control over your security system from anywhere
24/7 security-grade pre-installed hard drive
Expandable high capacity storage up to 8TB
Automatically detects compatible IP cameras in the network
4K video output – view multiple HD channels at once in full resolution on a 4K TV
H.265 / H.264 video compression offers reduced file size, improved storage and network efficiency
Pentaplex Operation – view, record, playback, back up & remotely control the system simultaneously
Click-and-drag digital zoom in live view and playback
Convenient front panel button controls
Accurate time stamps with NTP & daylight savings time
Instant backup of live video to a USB flash drive
Automatic firmware upgrade over the Internet ensures your system is secure and up-to-date
Push notifications of motion events
Instant email alerts with snapshot attachment
Multi-streaming to conserve bandwidth
Continuous, scheduled, and motion recording
Dual video outputs (HDMI and VGA) to connect multiple monitors
HDMI cable included for simple connection to HD & 4K TVs
---
LNB8005
4K Ultra HD IR Bullet IP Camera Features: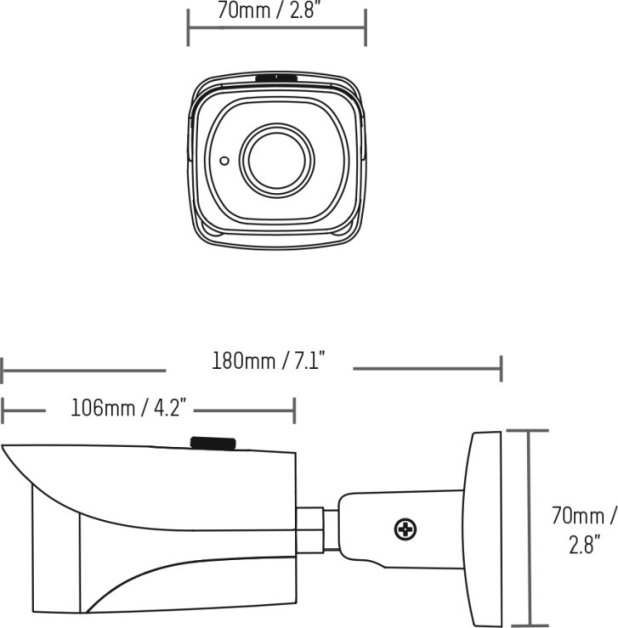 UltraHD 4K image sensor delivers 4x the detail of 1080p
4K video recording provides ultraHD quality even when zoomed, offering clearer identification in video evidence
Color Night Vision? delivers full color nighttime video for improved recognition of objects in low light conditions
IR night vision range up to 130ft (40m) in ambient lighting and 90ft (27m) in total darkness
ClearNight imaging for improved low light performance and improved recording efficiency
H.265 offers significant bandwidth and video storage savings over older compression technologies, extending the amount of video stored on the hard drive
Intelligent compression saves recording space by optimizing video performance based on available bandwidth
Wide angle 88° field of view (horizontal)
Ceiling / wall mountable
Simple camera installation using a single CAT5e cable with Power over Ethernet (PoE)
60ft (18m) CAT5e cable included per camera
Extend the camera's video and power with a single Ethernet cable up to 300ft (91m) from the recorder
Single-screw bracket adjustment for faster installation
Cold climate capability (-22°F / -30°C)
Weatherproof Ethernet connector cover for a protective seal against the elements
Weatherproof metal housing for outdoor & indoor installation (IP66 Rated)
---
With or Without the Internet

Standalone camera systems do not need the internet to operate. However, an internet connection will be necessary if you wish to use a smartphone, tablet or computer to access features such as remote monitoring.

NVR Network Video Recorder

Security NVRs will connect to IP cameras using CAT5 network cables and will store pre-compressed video footage from IP cameras.

24/7 100% Duty cycle hard drive pre-installed

The hard drives are designed to work in a security environment, including simultaneous recording & playback from various streams.
More Information

| | |
| --- | --- |
| Smart System | No |
| Warranty | 3 Year |
| Free Return | Yes |
| Free Shipping | Yes |
| Manufacturer | Lorex |
| Refurbished | No |
| Manufacturer Id | 4KHDIP44W |
| Technology | Ip |
| Standart Night Vision | Long <150ft |
| Color Night Vision | Long <150ft |
| Optical Zoom | - |
| Includes Dome Camera | No |
| Includes Bullet Camera | Yes |
| Includes PTZ Camera | No |
| HDD | 2 TB |
| Camera Count | 4 |
| Indoor | Yes |
| Outdoor | Yes |
| App | Lorex Secure on Android and IOS |
| Remote App View | Yes |
| Motion Detection | Yes |
| Email Alert | Yes |
| IR Night Vision | 130ft - Standard Night Vision |
| Channels | 8 Channels |
| Audio | - |
| Resolution | 4K @15FPS (Ultra HD) |