1080p Outdoor Wireless Camera System, 2 Rechargeable Wire Free Battery Powered Black Cameras, 95ft Night Vision, 1TB Hard drive, No Monthly Fees
LWF1080B-62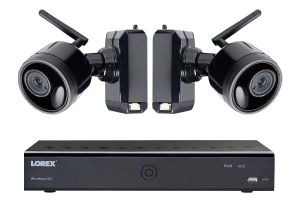 With over 20 years of industry expertise and innovation, Lorex has developed the ultimate wire-free security solution for those who are serious about their safety but want to avoid long distance cabling. This bundle comes with two battery powered wire-free security cameras, a wireless receiver and a Digital Video Recorder (DVR) that includes 1TB of storage space. Experience vibrant 1080p HD video resolution, crisp infrared night vision, advanced motion detection and a protective weather resistant sheath to ensure long-lasting durability in various temperamental climates. With no hidden fees or monthly subscriptions, this Lorex wire-free security system comes with everything you need to keep you and your family safe.
---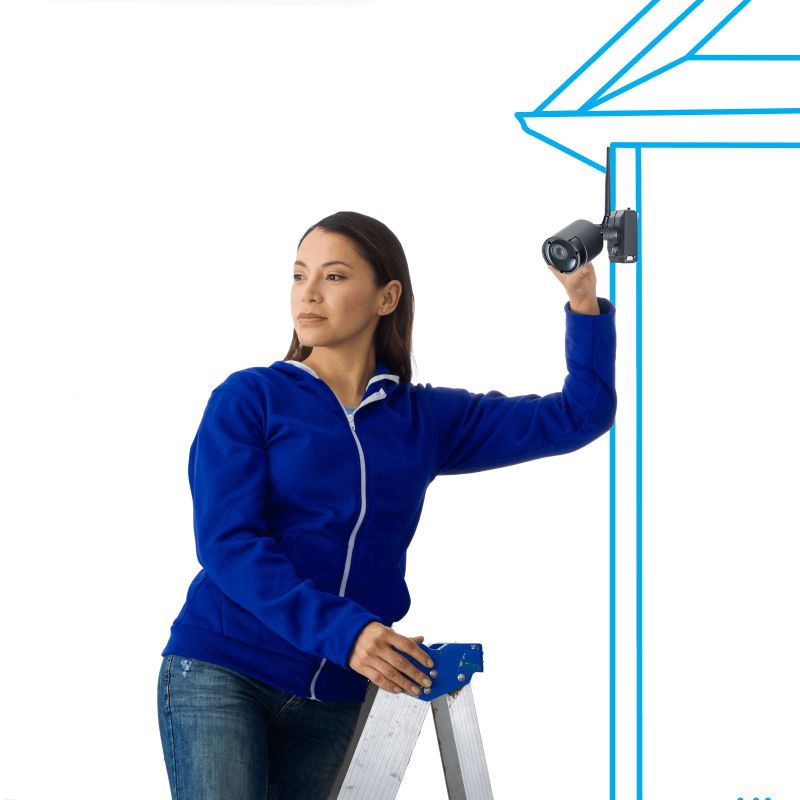 DIY installation
Save time and money by installing the cameras yourself. These cameras included are 100% wire-free, which means there's no need to run lengthy cables all over your property to power them or connect them to the DVR. Simply attach the metal mount to any sturdy surface of your choosing, secure the camera to it, insert the battery pack and you're ready to go.
*Wire-free cameras will already be paired to your DVR. If this is not the case, please follow the directions in the included Quick Connection Guide.
---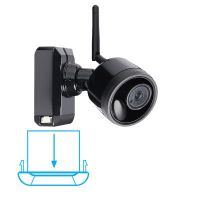 Durable lithium-ion battery
Each wire-free camera is powered by a durable two-cell rechargeable lithium-ion battery that can last up to four months before having to recharge them This depends on where the cameras are placed, however, since cameras in low traffic areas will have a longer battery life compared to those in high traffic areas. This is simply because the cameras in busier areas will turn on and off more often, causing the battery to deplete at a faster rate. There is no need to worry, though, since you will receive a notification directly to your phone from the Lorex mobile app alerting you when the battery life reaches 20%. You can also check the state of the battery at any time through the app. Another important feature is the Power Pack's convenient quick-release function, which allows for easy battery replacement without having to remove the camera from its mount.
*This average is based on an average of 4 minutes of recording per day.
---

How many motion events can be captured on a single charge?
There's no need to worry about constantly changing your wire-free batteries! Each battery Power Pack will provide you with approximately 168 motion recording clips per week for up to 17 weeks on a single charge!
Long-lasting battery means that every week you are able to capture:
---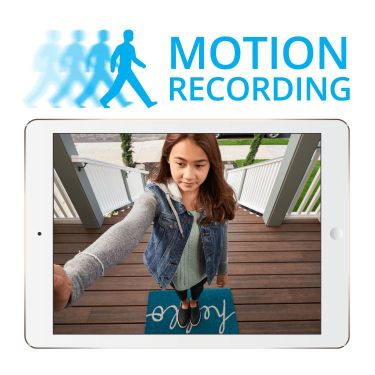 Motion-based Recording
Wire-free cameras are always on standby mode until movement is detected. Once the camera senses any type of motion in its field of view, it will automatically turn on and start recording. The camera will continue to record for a customized length of time before reverting to standby mode again.
---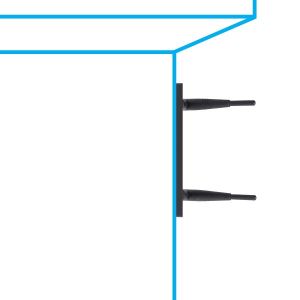 Weatherproof receiver
Like the cameras, the included wireless receiver is also fully weatherproof, so it can be installed outdoors for optimal wireless reception. Just run the USB cable from the DVR outdoors to wherever the receiver is located. This USB extension cable can help to accomplish this.
---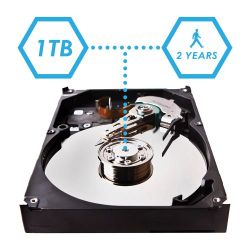 Secure local storage
There's no need to pay for remote cloud storage because all video footage is securely saved on the massive 1TB security certified hard drive that is located within the DVR. Local storage means you can store up to two years of motion recordings within your residence and not worry about security breaches.
---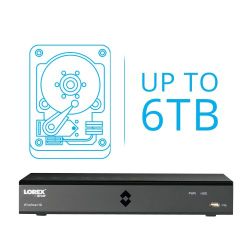 Upgradable hard drive
The hard drive within the DVR can store up to 1TB of data - but if more storage space is needed then it can be easily be upgraded to a 6TB hard drive. With that amount of storage, you can easily save many years of motion events. Please refer to the DVR manual for hard drive installation instructions.
---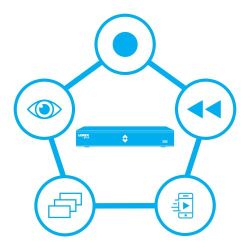 Pentaplex Operation
Simultaneously record on all channels, view live video, playback recorded events, back up recorded footage, and remotely access your system thanks to your DVR's powerful pentaplex capabilities.
---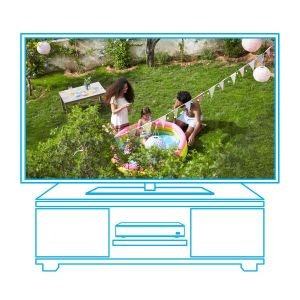 1080p Full HD Video
Wire-free cameras record in full 1080p resolution that results in clear and well-defined video. They also use an ultra-wide 140 angle lens, which is perfect for doorways, the front of your house, vast backyards or large areas within the house or property.
---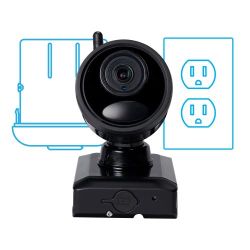 Hybrid Wireless / Wired Capability
Your wire-free cameras are completely cable free. In short, they're motion-triggered (that is, it only wakes up when motion is detected and goes back to stand-by mode when there is no motion) to save and lengthen its battery life. But if you desire so, they can also be converted into 24/7 wireless cameras by plugging them directly into a power source using a power adapter.
---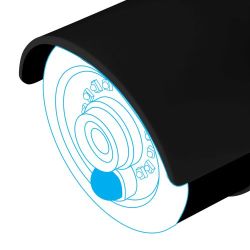 Advanced PIR motion sensor
Below the lens of the wire-free camera is a Passive Infrared (PIR) sensor. This sensor detects heat from moving objects such as people, animals, or vehicles. However, it does not work through glass, so it is NOT recommended to install wire-free security cameras indoors facing a window. For best results, position the camera around 20ft (6m) away from the area you wish to monitor.
---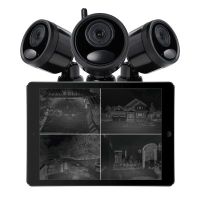 Infrared night vision
Securing your loved ones and property is a 24-hour operation. Fortunately, this Lorex wire-free security camera has you covered day and night ? thanks to their infrared night vision capabilities. Around the camera's lens are 6 powerful infrared LED's that capture high-quality video at night up to 95 feet away. The cameras also feature an automatic infrared cut filter that will automatically disengage at night. This ensures accurate color representation during the day and high-quality black and white infrared video through the night.
---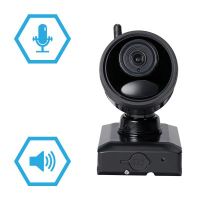 Audio Recording and Two-Way Talk
Your wire-free security cameras include both a built-in microphone and speaker, offering you additional protection in conjunction with video footage. First and foremost, the microphone will provide you with extra information (and evidence, if needed) to your security. Secondly, this microphone will allow people on the other end to communicate through the camera. Then, thanks to the on-board speaker, you can use the Lorex Cirrus app to speak into the phone to communicate with them. This is perfect for mail delivery or checking in on loved ones.
---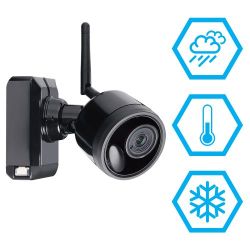 Safe for outdoor installations
Rain and snow are no match for your wire-free cameras. They will even continue to operate in freezing temperatures as low as -4°F and as high as 122°F. It is recommended to install the cameras in sheltered locations such as under the porch or eavestroughs for extra protection from the elements and to help keep the lens clean from any weather-related residue.
---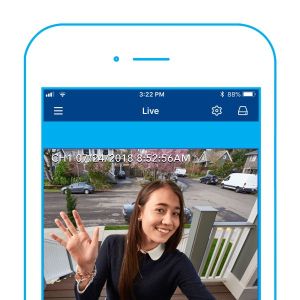 Lorex Cirrus Mobile App
With the Lorex Cirrus app you can keep tabs on all your wire-free security cameras with the tap of a button from virtually anywhere in the world. Using this app, you can quickly view live and recorded video through a connected tablet or smartphone.
---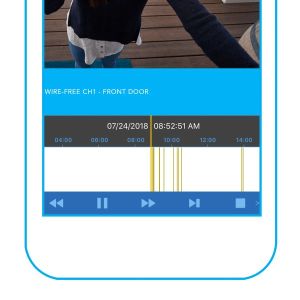 Event Timeline
Quickly review past motion events using the easy-to-use event timeline feature. Simply choose a date and scroll to the highlighted lines that indicate that a motion event was recorded.
---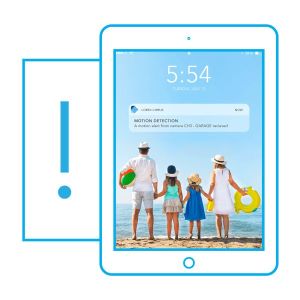 Motion Alerts
Don't be left in the dark when it comes to your safety. You can customize the Lorex Cirrus app to keep you informed of any type of activity with motion-activated push notifications. Now you can have some peace of mind knowing you can check up on the kids after school, or make sure that package you were expecting has arrived. With alerts being sent directly to your smartphone or tablet you will have plenty of time to notify the authorities if something suspicious is happening on your property.
---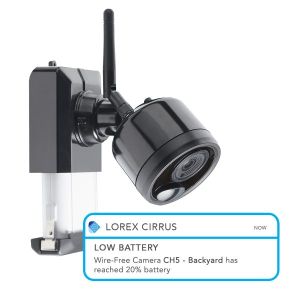 Low Battery Warnings
When a camera's battery reaches 20%, a low battery notification will be sent directly to your tablet or smartphone via the Lorex Cirrus app. That way, you won't have to worry about checking the cameras manually or having the batteries run out without you knowing. On top of that, you can always monitor battery life at any time through the app.
---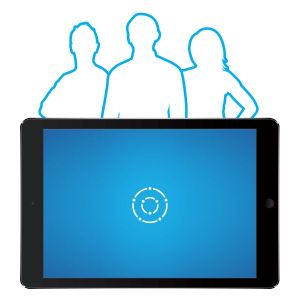 Connect up to 3 devices at once
Three different users can use the Lorex Cirrus app at the same time. This will help keep your whole family informed of any motion activity around your house. There is no limit to how many accounts the system is linked to as well, which means your whole family can be connected by simply downloading the app on their smart phones or tablets.
---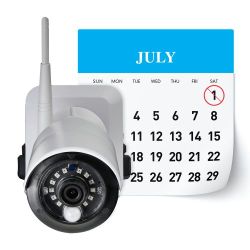 No monthly fees
Don't continue to pay for your security system after purchase. There are no hidden fees or monthly cloud storage subscriptions and even the Lorex Secure app is free of charge.
---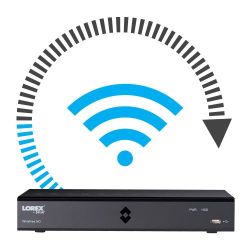 Low bandwidth usage
Since you don?t have to upload video data to the cloud, this wire-free system will not deplete your internet bandwidth. The only time you will ever need to access your internet bandwidth is when you remotely access your security system through the Lorex Cirrus app (to view live or recorded video).
---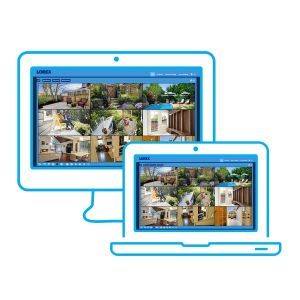 PC and MAC Compatible
Lorex's Web Client gives you access to your wire-free security system and its settings over the Internet using a PC or Mac computer. With this software, you will be able to view live and recorded video, as well as save manual recordings and snapshots to your computer's hard drive. The software is available under the downloads section below.
---
LHB926
Wire-Free DVR Features:
See more detail with full 1080p HD resolution video
View connected cameras remotely on the free Lorex Cirrus™ app with easy connect and setup
DVR supports up to 6 wire-free cameras
Customizable motion detection for accurate instant alerts
Reduce false alerts by choosing only the most important areas to monitor
Choose the distance and range for the camera to further refine the detection zone
Receive accurate motion alert push notifications from the mobile app
Record up to 2 years of motion video clips and never pay costly Cloud storage fees
Recordings and important motion events are easy to review and stored on your own secure DVR
Up to 2 years of local video storage with no hidden or monthly cloud storage fees
H.264 video compression maximizes video storage, and offers more efficient remote connectivity
---
LWB4901
Wire-Free 1080p HD Video Security Camera features:
Full 1080p HD wire-free video resolution
Up to 600ft wireless signal range provides many placement options
Receive low battery notifications through the Lorex Cirrus app (on compatible DVR)
Adaptive Frequency Hopping Spread Spectrum (FHSS) technology greatly reduces conflicts with competing signals
Don't pay a professional. Cameras are easy to install by yourself
Night vision up to 95ft (23m)
Weather-resistant (IP66) battery-operated cameras go almost anywhere, indoor or out
Built-in PIR camera motion sensor alerts you on the Lorex Cirrus app when activity is detected (on compatible DVR).
---
No Monthly Fees

There are absolutely no monthly fees associated with this security system. All video footage is safely stored on the security grade hard drive located within the recorder.

With or Without the Internet

Standalone camera systems do not need the internet to operate. However, an internet connection will be necessary if you wish to use a smartphone, tablet or computer to access features such as remote monitoring.

Connects directly to TVs and Monitors

Easily watch live video feeds or review video footage on most Monitors or HD TVs by using the included HDMI cable.

HD 1080P Resolution 1920 x 1080 pixels

Record and capture all the details, don't miss out anything. Full HD resolution with accurate color reproduction brings your recorded video to life.

24/7 100% Duty cycle hard drive pre-installed

The hard drives are designed to work in a security environment, including simultaneous recording & playback from various streams.

Lorex Cloud Connection and Apps

Lorex Cloud will help simplify and organize your life by keeping track of all your security cameras from anywhere in the world on any iPhone , iPad or Android devices.
More Information

| | |
| --- | --- |
| Smart System | No |
| Warranty | 3 Year |
| Free Return | Yes |
| Free Shipping | Yes |
| Manufacturer | Lorex |
| Refurbished | No |
| Manufacturer Id | LWF1080B-62 |
| Technology | Wireless |
| Standart Night Vision | Standart <100ft |
| Color Night Vision | - |
| Optical Zoom | - |
| Includes Dome Camera | No |
| Includes Bullet Camera | Yes |
| Includes PTZ Camera | No |
| HDD | 1 TB |
| Camera Count | 2 |
| Indoor | Yes |
| Outdoor | Yes |
| App | Lorex Cirrus Mobile App |
| Remote App View | Yes |
| Motion Detection | Yes |
| Email Alert | Yes |
| IR Night Vision | 95ft - Standard Night Vision |
| Channels | 6 Channels |
| Audio | 2 Way Talk |
| Resolution | 1080p (HD) |